Who is the greatest movie villain of all time?
JOKER (HEATH LEDGER)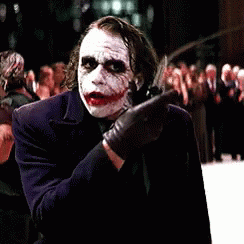 In an age when origins are required, Ledger's Joker arrived on the scene without a name, place of birth, or a particular ambition. As Alfred (Michael Caine) put it, he just wants to see the world burn, and he even tells Harvey Dent (Aaron Eckhart) as much late in the film. His complete lack of backstory and motivation makes him the most unpredictable, dangerous supervillain on this list, and the purity of his cruelty makes him the most fascinating.
Whats yours?
posted in Movies & TV Shows